OptiTrack Motion Capture Helps VYV Reinvent Live Stage Shows for Top Entertainers
On stage performer tracking, projection mapping, and giant inflatables captivate audiences at Miley Cyrus' Bangerz show, Cirque du Soleil, and other worldwide tours
Miley Cyrus BANGERZ Tour 2014 - VYV from VYV on Vimeo.
VYV's team of scientists and technical artists are combining real-time performer tracking, computer vision techniques and projection mapping to produce some of the most technically ambitious and visually spectacular live performances in the world. The Montreal-based company has delivered motion tracking and video projection mapping solutions for five Cirque du Soleil tours, including "Michael Jackson ONE," as well as concert tours for Miley Cyrus, Justin Timberlake, Alicia Keys and Britney Spears. VYV couples proprietary technology with anywhere from 6 to 35 OptiTrack cameras, often mixing offerings to fit the specific demands of each show.
"Given the high stakes involved in live performances – especially ones of such massive scale – our installations have to be failure-proof and the tracking must be precise, both of which make OptiTrack an ideal partner," said VYV General Manager Eric Plante.
Enlisted early in the creative process, VYV first determines the technical parameters of the pre-rendered content provided by the customer. The VYV team builds a virtual or small-scale version of each anticipated stage to facilitate various effects and tricks – allowing show producers to see how the content will play out on stage in advance, and alter as needed. Once technical details are locked in, VYV scales up the installation accordingly. Custom infrared (IR) emitters located on projection surfaces, which range from a performer's attire to flat panels and giant inflatables, are tracked by OptiTrack motion capture cameras – generally Prime Series models. A separate set of OptiTrack cameras is used to calibrate the projection system; each camera is mounted near a group of projectors to determine its location in 3D space by referencing IR emitters embedded to stage structures. VYV runs both sets of cameras through its Photon media server.
"Projector orientation that's off by even 0.5° is a big deal at 150', so we have no room for error. Not only does calibration need to be spot on for every show, but touring installations need to be reassembled for each stop, and quickly. OptiTrack cameras provide the fast accuracy that we need, beautifully withstand the rigors of the road and the open SDK allows us to use them in the context that we need – outside traditional motion capture," explained Plante.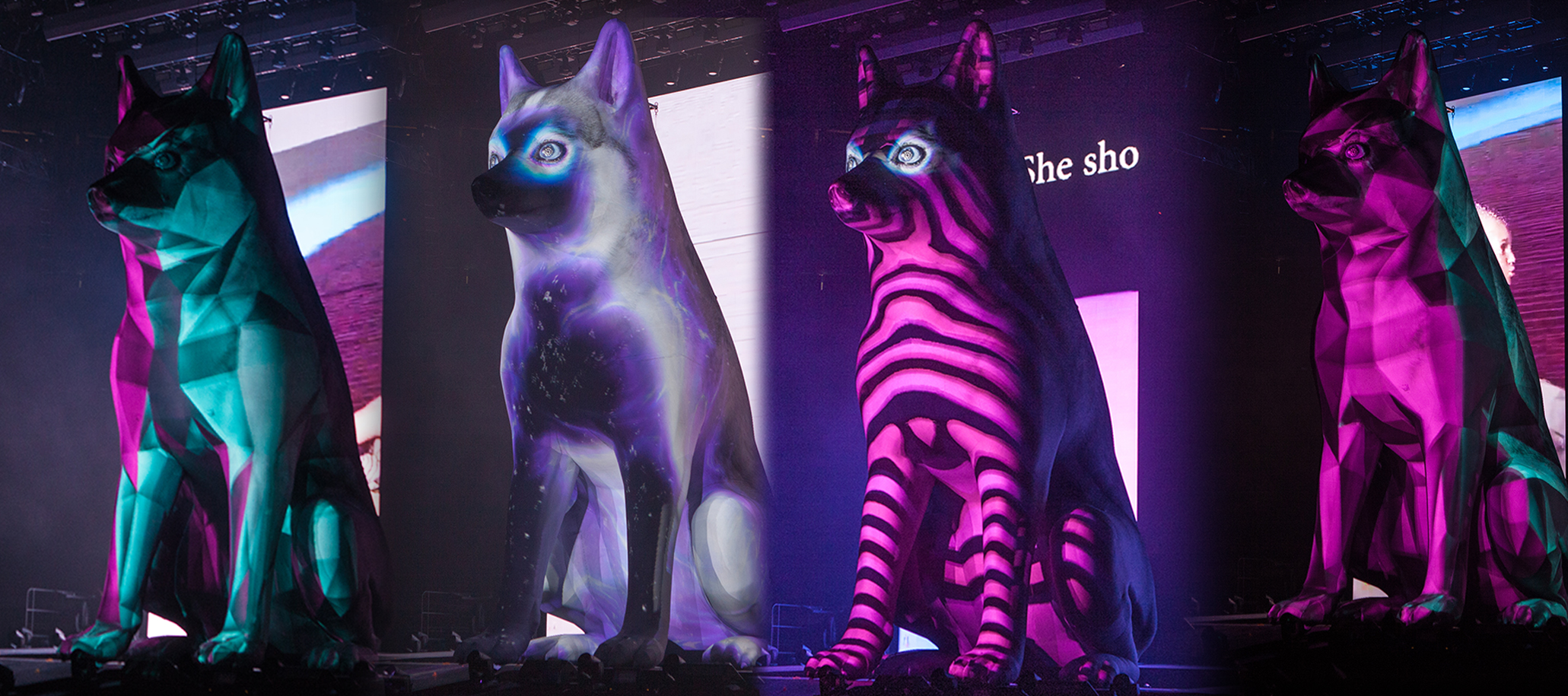 OptiTrack's Aim Assist grayscale view makes setup simple and straightforward, a crucial necessity for touring installations where traditionally tedious setup isn't feasible due to time constraints. Additionally, the Power over Ethernet (PoE) camera interface ensures a seamless transition to backup machines on the same network, if required, and the invisible IR illumination of the cameras eliminates performer distraction.
"OptiTrack's support team is fantastic; they really understand what we do, take our unusual needs into consideration and are open about future plans, which in turn allows us to plan ahead," Plante noted. "It's great to be able to directly connect with someone responsible for the direction of products."
On a much smaller scale, OptiTrack's entry-level technology helps engineers troubleshoot installations during on-site setup for tours. Given limited access to stage time, VYV will sometimes use a handful of OptiTrack's V120:SLIM cameras and a pocket projector to create a parallel micro-setup off-site. Compact and inexpensive, the tiny system allows VYV to work through scenarios quickly and inexpensively, ensuring impactful performances for clients.
About OptiTrack
OptiTrack creates the highest performing 3D tracking hardware and software available today and has become the largest motion capture provider in the world. By delivering the best 3D precision, simpler real time workflows, on-site manufacturing enabling the industry's lowest pricing, and free and open developer access, it has become the favorite of industry leaders in game and film production, university education and research, engineering, life science, sports performance and injury prevention, and many others.
The OptiTrack product line includes motion capture software and high-speed tracking cameras, contract engineering services, the GEARS golf training and club fitting solution, and affiliate consumer tracking products TrackIR and SmartNav.
Entertainment customers include: Activision, Electronic Arts, 343 Industries, US Army Game, Cloud Imperium, Square Enix, Ready at Dawn, TV Globo, NetherRealm, Ubisoft, Rockstar Games, Crytek, Remedy, Game On Audio, The Moving Picture Company, Animatrik Film Design, and other top studios and developers around the world. Engineering customers include: Boeing, KMel Robotics, NASA, Oculus VR, Lockheed Martin, John Deere, Mechdyne, Under Armour, Stanford University, Duke University, Laser Shot, Mitsubishi, and Dassault Systems.
OptiTrack™ is a registered trademark of NaturalPoint. All products or brand names mentioned are trademarks or registered trademarks of their respective holders.